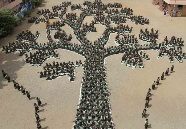 Wood smugglers are cutting down trees in Bandarban's reserved forest areas on a grand scale, causing extensive damage to the tracts, with the connivance of forest officials of Bandarban Forest Division. From 1981 to 2012, thousands of acres of land in Bandarban Sadar, Ruma, Thanchi and Roangchhari were afforested under government plans. A variety of trees were planted in the areas but the tracts now appear almost deserted. In some places, there are only signboards with the message "reserved forest area" but there are barely any trees.
Even the Bangladesh Forest Department has no accurate data on the area of lands in Betchhara and Kasalang ranges that were afforested. Locals in Balaghata said wood smugglers fell trees in the forests in different areas and use Charuipara Road to transport logs by pushcarts but forest officials turn a blind eye to this. Many locals claimed logs are sold to furniture traders.

Divisional Forest Officer of Bandarban Molla Rezaul Karim told the Dhaka Tribune that there is no scope for illegal logging and wood smuggling in the district's forests as the areas remain heavily guarded all the time. He also denied that any forest official had connived in wood smuggling.  So, no illegal logging. Where all the trees are gone?