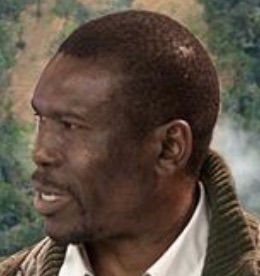 On 25 September 2017, human rights defender Nasako Besingi was arbitrarily arrested by local police officers, gendarmes and army officers in his office in Mundemba, Ndian Division, Cameroon. Nobody knows where he has been taken.
Besingi is the director of the Cameroon SEFE local association (Struggle to Economize the Future Environment) based in the city of Mundemba. He has long campaigned against the establishment of a large industrial palm oil plantation in the area by SGSOC, a oil palm plantations company controlled by the American agribusiness company Herakles Farms. The plantations has been pushed through despite the opposition of local communities and civil society, and the evidence that it will destroy tracts of dense rainforest that are home to endangered wildlife including the chimpanzee. 
No matter the threats and the intimidation against me, I will continue my peaceful struggle for the rights of my community who fight for our forests.
Nasako Besingi
On 25 September 2017, at around 6.30am, local police officers, gendarmes and army officers entered Nasako Besingi's office, located next to his home, and arrested the human rights defender. The officers searched Nasako Besingi's office and confiscated documents, a laptop, his phone, SIM cards as well as the human rights defender's identity card and passport. Following the search, Nasako Besingi was taken by car to the Gendarmerie brigade in Mundemba but was never informed of the charges against him. Twenty minutes after his arrival at the Gendarmerie brigade, he was seen being taken by car from the brigade to an unknown location.
The arrest of Nasako Besingi follows a larger pattern of judicial harassment against the human rights defender due to his peaceful work in promoting human rights in Cameroon. On 21 January 2016, the Court of First Instance of Mundemba sentenced Nasako Besingi to either pay a fine of 344,400 CFA Francs (approximately €524) or serve one year's imprisonment. On 3 November 2015, he was convicted on defamation charges brought against him after Herakles Farms claimed that an article published by the human rights defender caused injury to the company. In the article in question, the human rights defender reported a violent attack he had suffered in 2012, in which he recognised the assailants as employees of Herakles Farms. The human rights defender was ordered to pay a fine of 1 million CFA Francs (approximately €1,500) or face 3 years' imprisonment.