Details

Published: 27 May 2015

Forest fires in Alberta, Canada, are now out of control. According to the government, the fire is devouring about 17,500 hectares or forests. There are 70 fires across Alberta, 19 of which are burning out of control, and they are now approaching the oil sand facilities. As oil companies are evacuating the area, oil production felled of about 15 per cent. Oil sands (also called tar sands or bituminous sands) are sands or sandstone containing a mixture of sand, clay, water and bitumen. While international prices of oil are rising, exploitation of tar sands is becoming more and more economically rewarding. However as sands's impacts on the environment are serious: air and soil pollution, deforestation and green-house emissions. 
Details

Published: 20 May 2015

Not very long ago, tropical countries like Indonesia and Brazil has been identified as the places where the worst deforestation was going on. According to new data from Global Forest Watch, now deforestation is decreasing in the tropics, while it is increasing on the boreal hemisphere, especially in Russia, Canada and the U.S. 
Details

Published: 13 May 2015

An indigenous health worker in Brazil's Amazon rainforest has been killed in an ambush by gunmen thought to be loggers, according to Survival. Eusébio Ka'apor was shot in the back by two hooded men while traveling on a motorbike. He succumbed to his injuries two hours later while his companion sought help. The Ka'apor's territory has been heavily invaded by illegal loggers for years, and the tribespeople believe that the assassins were also loggers. Soon after the incident, Eusébio's son was stopped by a well-known logger and warned that other indigenous people could die too.
Details

Published: 06 May 2015

(
Mongabay.com
) There's a saying in the Indonesian palm oil industry: Sumatra is yesterday, Kalimantan is today, and Papua is tomorrow. Tomorrow might well have arrived. A new
report
 sheds light on the industry's rapid expansion in Indonesia's easternmost region – and on the companies behind the plantation drive. 
Details

Published: 04 May 2015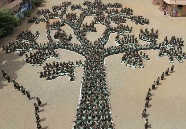 Wood smugglers are cutting down trees in Bandarban's reserved forest areas on a grand scale, causing extensive damage to the tracts, with the connivance of forest officials of Bandarban Forest Division. From 1981 to 2012, thousands of acres of land in Bandarban Sadar, Ruma, Thanchi and Roangchhari were afforested under government plans. A variety of trees were planted in the areas but the tracts now appear almost deserted. In some places, there are only signboards with the message "reserved forest area" but there are barely any trees.