Details
A colossal project: transform vast areas of Africa into plantations for paper production. t looks like an old colonial dream in the hearth Mozambique, but it's today's story. Behind it there is the Portuguese 'The Navigator Company' and its local subsidiary Portucel Mozambique. Local NGOs monitoring the impacts of this land acquisition are deeply concerned about the impacts on local livelihoods and on biodiversity.The project already created vast impacts, with local farmers forced to give up their land, now struggling to find means of life. 
Details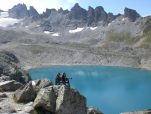 Geologists just discovered 260-million year old forests in Antarctica. And they could provide a glimpse into a climate-changing future. Antarctica wasn't always a barren and largely uninhabitable landscape of snow and ice. Almost 260 million years ago, the world's coldest and driest continent was awash with lush, thriving forests -- and a group of geologists have just found one.
Details

The Government of Bhutan, in partnership with WWF, announced the creation of a USD $43 million fund—the first of its kind in Asia—to permanently protect Bhutan's network of protected areas. The program, which is supported in part by the Green Climate Fund, will ensure that there is funding forever to properly manage Bhutan's protected areas—which constitute 51 percent of the country, the highest percentage of land designated as protected in Asia.
Details

A letter of concern has been sent to Estonian company Est-For,  signed by a number of Estonian NGOs and by the Environmental Paper Network. The letter expresses the worries about the planned Est-For pulp mill (they call it "biorefinery"), as there appear to be insufficient safeguards in place to prevent negative impacts on the environment. 
Details

Massive wildfires sweeping through parts of California have killed at least 17 people and damaged more than 2,000 residences and other buildings, according to authorities. More than 100 people are missing. More than 100 people were being treated in hospitals for fire-related injuries or health issues, including burns, smoke inhalation and shortness of breath.The largest conflagration is in California's wine country, about 50 miles north of San Francisco. Fires there are at 0% containment, which means that firefighters have not cleared vegetation from the fire's perimeter.